Capital Market Relations offers four core practices that can help businesses achieve greater shareholder appreciation: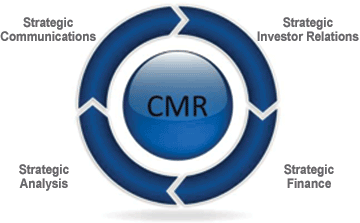 Strategic Communications: Building Shareholder Value Through Proactive Communications
How you position your company and the methods you use to deliver your message carries a lot of weight with the capital markets. By taking a deep look into what you are doing now, what you want to be doing, and closing that gap you can begin delivering messages that hit the target every time.
Strategic Investor Relations: Building Shareholder Value Through Positive Interactions
Are all of your company's activities planned to engage the capital markets in the best possible manner? Strategic IR planning is crucial to making sure that every meeting, presentation, webcast, conference call - any interaction with capital markets - has a predetermined agenda and goal.
Strategic Finance: Building Shareholder Value Through Transparency and Insight
How do the capital markets view your company? Are your financial statements and exhibits clear and do they offer the information an investor needs to make decisions? When things are going well, most companies are happy to provide clear insight. It's when things are rocky that investors really want to know the truth.
Strategic Analysis: Building Shareholder Value Through Corporate Expansion
Organic growth is fantastic. But sometimes companies can obtain significant market valuations by growing the business through strategic acquisitions. What's your company really worth today? What opportunities are available in the market to grow your value? Once an opportunity is identified, how do you approach and analyze a potential acquisition?
Capital Market Relations is prepared to assist management with any and all of these core areas.